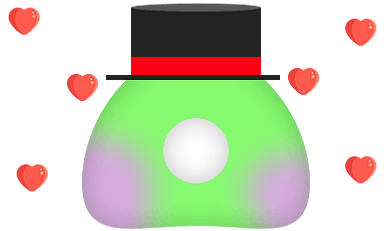 JULY 2021 - FIRST CHALLENGE
Following a few tests, the game is simply not interesting and fun and is almost all scrapped. Back to the drawing board, the team gets back to the creative process and from that emerges a brand new idea.
OCTOBER 2021 - A BIG CHANGE
After a new prototype and multiple user tests, the team realizes the goo system is not adequate and conceive multiple ways to solve the problem. Some more test will solidify the new system who will be there to stay.
MAY 2021 - START OF PROJECT
The start of the creation and ideation process which will lead to the first prototype a few weeks later. Some internal testing is organised.
Uligo: A Slime's Hike est un jeu de plateformes 3D dans lequel vous incarnez un slime capable de se déplacer sur toutes les surfaces pendant un certain temps. À travers plusieurs mondes remplis de pièges et d'obstacles plus ou moins loufoques, progressez de plus en plus dans votre ascension jusqu'au sommet.
With the game development almost done, the team now focuses on heavy testing of all the features in the game and taking feedback to better the overall game experience.